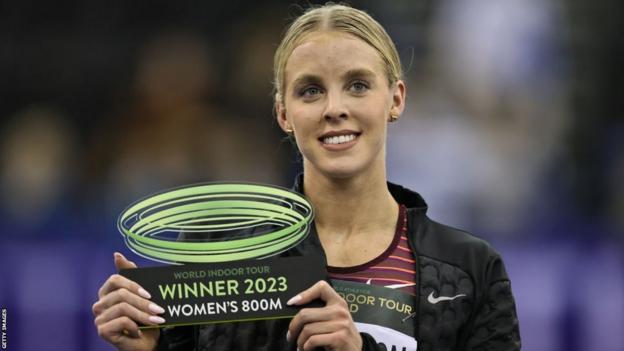 Venue:
Atakoy Arena, Istanbul
Date:
2-5 March
Coverage:
BBC TV, BBC iPlayer and the BBC Sport website & app
The times continue to get faster. National and world records have been reset. But despite her successes, Keely Hodgkinson's frustration has been clear while her rivals cross the finish line behind her.
"Sometimes I might have looked quite angry," joked the British runner, who turns 21 on Friday.
"I promise I wasn't, it's just that this sport is based on moments and I hate to throw them away," she told BBC Sport.
"My indoor season so far had been pretty good, very consistent, but I have wanted more at times."
The Olympic 800m silver medallist improved her own British indoor record in Birmingham last week, her latest statement at the start of a World Championship year in which she has already broken the women's 600m mark.
In Istanbul this weekend, she will look to defend the European title which in 2021 represented her first major gold medal, with live coverage on BBC TV, BBC iPlayer and the BBC Sport website and app.
Since that success, only American Athing Mu and Kenya's Mary Moraa were able to deny Hodgkinson – who won the European outdoor title last summer – total global dominance in only her second year as a professional athlete.
"You don't know how many chances you're going to get. I set my standards quite high and I just get frustrated when I don't meet them," Hodgkinson said.
"It's OK, I'm headed in the right direction. The most important thing is what happens in August."
The in-form Hodgkinson dominated as she claimed her fourth win in as many races this year at the World Indoor Tour Final, where she entertained the home crowd by shaving two hundredths of a second off her British record.
She is expected to successfully defend her European crown inside the Atakoy Arena and could do so comfortably, having run almost three seconds faster than anyone else in the field.
Indeed, such are the standards which she has set for herself, there is perhaps more interest in her ability to threaten Jolanda Ceplak's long-standing world record.
That record time of one minute 55.82 seconds, coincidentally set on the very day Hodgkinson was born in 2002, is an agonising 1.36 seconds quicker than the Briton's best to date.
"I'll be a very happy girl if I can go and defend my title," the Leigh athlete said.
"It gave me a lot of confidence [two years ago] and hopefully it will be another great year.
"Here, my main priority is to get to the final as smoothly as possible and win gold. Whatever comes with that, comes with it."
Coached by Trevor Painter and world 800m medallist Jenny Meadows, Hodgkinson has plenty of experience in her team.
She says that helps her to manage the expectation which accompanies her status as one of the sport's most exciting young athletes – however the only pressure she feels is that which she puts on her own shoulders.
"I don't really feel [the expectation] from anyone, it's more from myself," she added.
"Every year my goals are getting higher, so I expect that from myself, just to get better, faster, stronger, all those tiny one percents, and it is paying off.
"As long as I can walk off the track and say I've done my best, I'm happy."