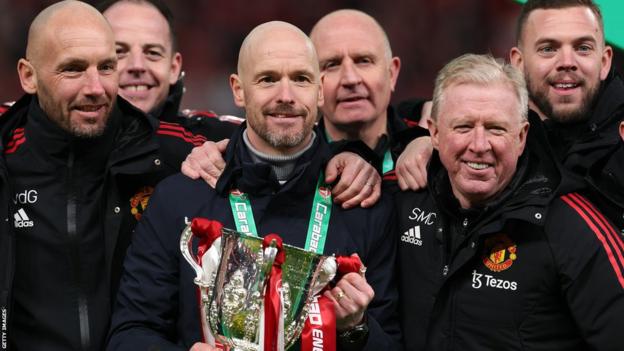 Former Manchester United midfielder Nicky Butt believes his old club have overtaken great rivals Liverpool on the pitch – but are still lagging behind in their work off the field.
Butt was part of the famous 'Class of 92' that emerged through United's academy to reach the very highest levels of the game.
He made 387 appearances for the club, winning six Premier League titles, three FA Cups and the Champions League in the 1999 Treble-winning season, before moving to Newcastle.
Butt returned to United as reserve-team coach in 2012 and eventually became head of first-team development before leaving for a second time in March 2021.
The 48-year-old succeeded Gary Neville as chief executive at League Two Salford City in October but still keeps a close eye on events at his old club and was at Wembley for Sunday's EFL Cup final win against Newcastle.
While he is delighted at United's improvements under Erik ten Hag, Butt feels there is a long way to go.
"United have gone past Liverpool football-wise," he said.
"Liverpool have a big job on their hands in the summer with recruitment. Their midfield looks ageing. Their best players aren't performing and don't look the same.
"Jurgen Klopp is great and I think he will get the right players in, so they could come back next season but United have overtaken them on the pitch, which is great credit to Ten Hag. He seems to have it all sorted out.
"He knows what he wants and has the respect of people above him to let him make decisions.
"They could even go in the back door and win the league because City are hiccupping every two minutes and while I actually think Arsenal will last the distance, they could slip off.
"But I wouldn't say United are back. Not a chance. If you look at the fundamentals of the club, United are behind Liverpool. The recruitment team has a big job on its hands to get to the next level. Being fourth is not Manchester United.
"I remember we used to finish second and were told if it happened again the next season we would be sold. Sold!
"You can say it's the old days but that was the mentality of the club back then. if you were going to finish second you may as well finish seventh."
United's rivals 'won't stand still'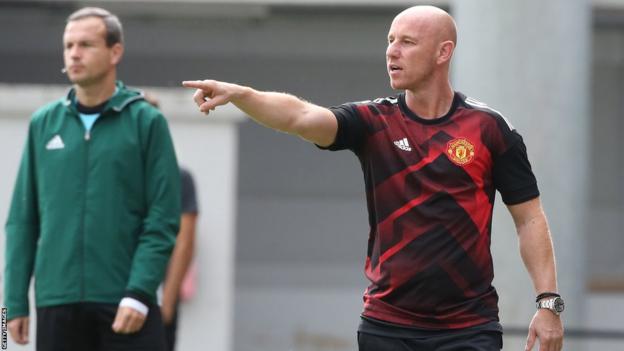 The funding required to get Ten Hag's squad to the level Butt demands brings the present uncertainty over the club's ownership back into focus.
Known bidders Sheikh Jassim bin Hamad Al Thani and Sir Jim Ratcliffe's Ineos group are still to discover whether the Glazer family will sell the club or are merely looking for additional investment.
"Obviously the owners are the big thing at United," said Butt. "They have never really fit, never been visible and the fans have never really grown to them.
"If you have teams like Newcastle or [Manchester] City or Chelsea who keep on spending money on stadiums, training grounds and players, it's very difficult to catch up with them.
"People keep saying how well United are doing but if they are going up, do you think City aren't going like that in the background as well?
"You've still got to catch them because they aren't standing still. Chelsea aren't standing still. Newcastle will be like that as well.
"We don't know what the owners are going to do. Are they going to sell the club fully and let someone come in and throw a lot of money at the fundamentals of it or are they going to ask someone to come in and help fund it?"
Butt knew Rashford was destined for stardom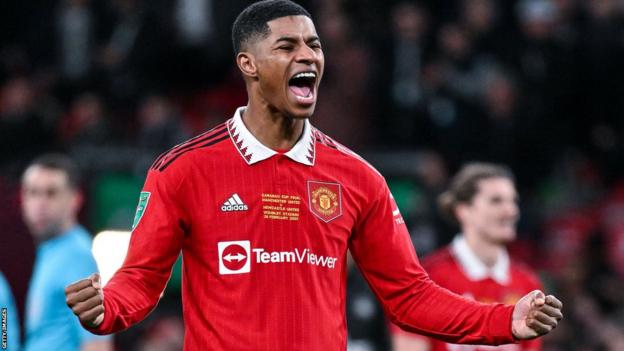 Whatever United achieve this season, Marcus Rashford will have played a big part in it.
The England striker has hit a career-best 25 goals this season, with Portugual midfielder Bruno Fernandes United's next highest scorer on seven.
Butt was a senior figure in United's academy structure when Rashford was emerging through the club's youth ranks and there was no doubt his fellow Mancunian was going to reach the top.
"I was sitting with my son (at Wembley) and he asked me if I always thought Marcus would be that good," said Butt. "I said yes. I thought he would be unbelievable. He always was. Anyone could have coached him.
"He had a couple of tough years but it depends what you call tough. He did so much unbelievable stuff off the pitch.
"People around him pushed him [on that] more than his football, in my opinion, but for out-and-out talent, he is as good at anyone in the world at what he does. I think he is starting to believe in that as well."
Re-energising stagnating Salford
While Butt evidently cares deeply about United, he has his own issues to deal with at Salford.
He admits after making rapid progress during the first five years of the 'Class of 92' ownership, when four promotions took them from the second tier of the Northern Premier League to League Two by 2019, the club has "stagnated".
"I would be lying if we said we hadn't," he said. "We haven't moved on. To have the highest budget and not get up means we have to admit we have stagnated."
But there have also been off-field issues to contend with in the form of a collapsed deal to move into the 12,000-capacity AJ Bell Stadium, which had been due to take effect from the start of next season, only for Salford City Council to change its mind and call off talks in December.
"We were future-proofing ourselves," said Butt. "There was a risk you are going to look stupid if you are still in League Two and only getting two or three thousand people in but the finances were all done and signed off, then the council told us it wasn't happening and they were buying it themselves.
"Everyone was as shocked as each other really. I find it ridiculous that a council can go and buy a £16m stadium when there are 42% of the people in Salford living in poverty. They will get no money from it. There is no business plan."